When we are born, we receive a last name and a first name that will characterize us from the beginning to the end of our life.

Our signature is thus important, as it reveals and asserts our personality. It is a sign, it can show a strong-willed personality (be strong or illegible)...Moreover, in the history of art, the artist's signature always represented the completion of his work.

Try, like me, to write all of your possible signatures on several sheets of paper. Frame them. You will be surprised by the results and by the comments of your friends!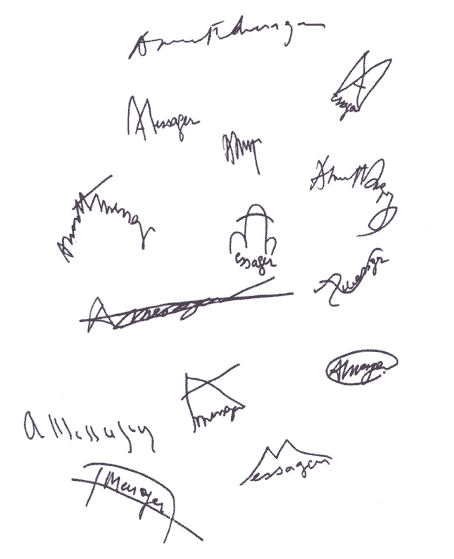 I would like to know how women feel who have changed their names when they remarried.|
Disclaimer: Religious and political views expressed on this site are those only of the invited author/s, they do not represent or bare claim to views or opinions of e-flux.com. Executing any of the instructions on this website is entirely at your own risk.

Conditions: Should you decide to make this instruction, please send us a picture, your name and the instruction's reference number, and it will probably be added to this page.

Credits: DO IT is a project curated by Hans-Ulrich Obrist. / DO IT at E-flux is produced and presented by electronic flux corp. that holds all the publishing rights, copyrights are held by the respective authors. / Architecture, Design and Development by FDTdesign, NY.